Call David at
07817025625

01895236199

(Daytime number)
Previous work carried out on behalf of the following:
Alfred Beck Theatre
Anne Liebeck (Soprano)
Chas 'n' Dave
David Gray
Des O'Connor
Elton John
Hampton Court Palace
Her Majesty's Theatre (Phantom of the Opera)
Ian Drury
Jools Holland
Royal Ballet School, Richmond
Russ Abbot
Sid Lawrence Orchestra
Wycombe Swan Theatre
Piano Sales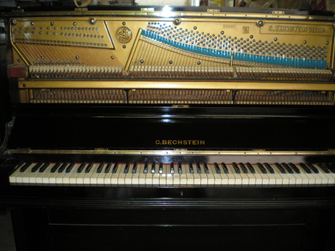 BECHSTEIN UPRIGHT FOR SALE.
FULLY RE-STRUNG,
NEW LAMINATED TUNING PLANK FITTED,
RE-BUILT ACTION,
ORIGINAL IVORY KEY COVERINGS.

David is pleased to offer this outstanding Bechstein Model IV upright for sale. Re-built in his own workshop.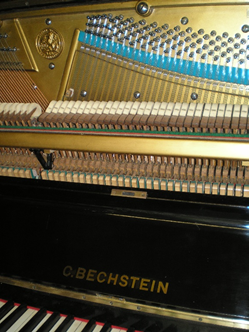 NB. Many Bechstein old uprights often have tuning problems in the Tenor and Bass sections, this was because the wrest,[tuning] pins were grouped extremely close together at these points, and the tuning plank was prone to fracture between them, so re-stringing with larger pins only exacerbates the problem. This instrument whilst retaining its original tone and character, has been re-strung with a modern multi-laminated tuning plank to prevent these issues ever occurring.

Price £3,500 including delivery [ UK/ground floor]